Orthopedic Care in Simi Valley
Recognized as a Center of Excellence for Robotic Surgery and Robotic Joint Replacement by the Surgical Review Corporation (SRC), Adventist Health Simi Valley offers the most effective, least invasive surgical treatments available in the field of orthopedic medicine today. This accreditation signals that our hospital is among the best in this specialty and is acknowledged for providing the highest quality of care and patient safety.
Additionally, Adventist Hospital Simi Valley is recognized by Blue Cross/Blue Shield as a Blue Distinction Center for knee and hip replacements. We are also one of the only facilities to provide robotic-assisted total joint replacement (TJR) between Santa Barbara and Glendale.
Take a hip risk assessment Take a knee risk assessment
Our new robotic Mako System provides greater precision and accuracy to patients undergoing total hip, total knee, and partial knee replacement surgery. The robotic arm-assisted surgery enables surgeons to provide each patient an individualized outcome, with precise alignment of knee and hip implants.
These advanced joint replacement surgeries translate into quicker patient recovery, shorter hospital stays, and most importantly, higher patient satisfaction ratings as compared to traditional knee and hip replacement surgery.
Our expert orthopedic surgeons:

Harpreet Bawa, MD
Master Surgeon, Robotics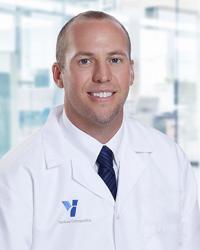 J. Ryan Quinn, MD
Master Surgeon, Robotics

Daniel Davis, MD, Orthopedic Surgeon
Ardalan Nourian, MD, Orthopedic Surgeon
Nicolas Vardiabasis, DO, Orthopedic Surgeon
What advanced orthopedic care means for you
Adventist Health Simi Valley provides our active community with convenient access to modern orthopedic procedures and follow-up care. Our team of highly skilled professionals specialize in diagnosis, treatment, rehabilitation and prevention of musculoskeletal conditions, diseases and injuries affecting bones, joints, ligaments, tendons, muscles and nerves throughout the body.
They offer a wide range of orthopedic care, from sports medicine and rehabilitation to comprehensive joint replacement surgical options.
Procedures/treatments
Building confidence and better mobility
Worried about taking the next step in having a joint replacement? You can rest assured that the orthopedic team at Adventist Health has some of the lowest complication rates in the country. That's great news for the thousands of people who require any kind of joint surgery, spine surgery or other general orthopedic procedures.
We are ready to partner with you on your return to a fuller, more mobile lifestyle. Take one of our health risk assessments today and get on your way to a new you.